Unique Airbnbs, Treehouses, Cabins, and Places to Stay in West Virginia
Disclaimer: This post might contain affiliate links, which means we get a small commission if you make a purchase (at no extra cost to you).
Looking for an awesome cabin in West Virginia? Book one of these unique places to stay in West Virginia!
---
West Virginia is full of exciting places to visit, and even cooler places to stay overnight! So if you're looking for your next unique place to stay in West Virginia, consider checking out these amazing Airbnbs, treehouses, cabins, and unique stays in West Virginia!
Best Airbnbs, VRBOs, Treehouses, and Cabins in West Virginia
Disclaimer: All images are credited to Airbnb, VRBO, and/or their respective hosts.
Retro Tiny Cabin in the Trees | Camp Hike-n-Bike
This retro tiny house in the middle of the woods makes for an amazing cabin near Harpers Ferry, West Virginia. Decked out with 1940s decor, this 8′ x 16′ cabin will make you feel like you are back in time! Even though you're in the middle of the woods, you'll be able to enjoy modern amenities like Wi-Fi and a full kitchen.
Harper's Ferry should be on your West Virginia bucket list for its National Park status, its interesting history, and historic charm!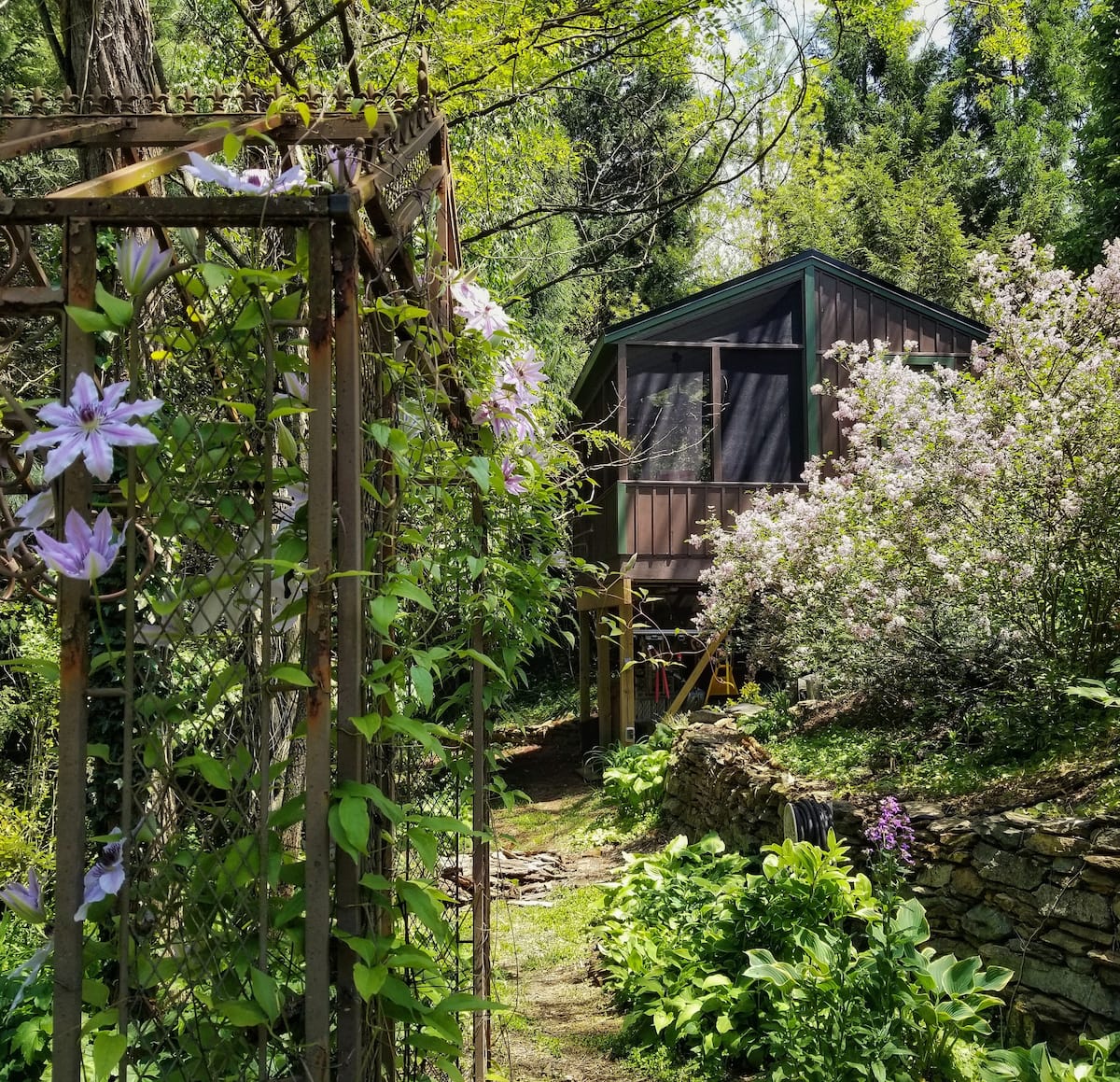 Cozy School Bus Conversion
For those looking for a super unique place to stay in West Virginia, you can stay on a converted school bus in Shepherdstown! In this 1997 school bus, you'll find a wood-burning stove, space to relax, and a comfortable bed. Guests can use the host's kitchen and bathroom as needed. This unique place to stay in West Virginia is certainly one of a kind!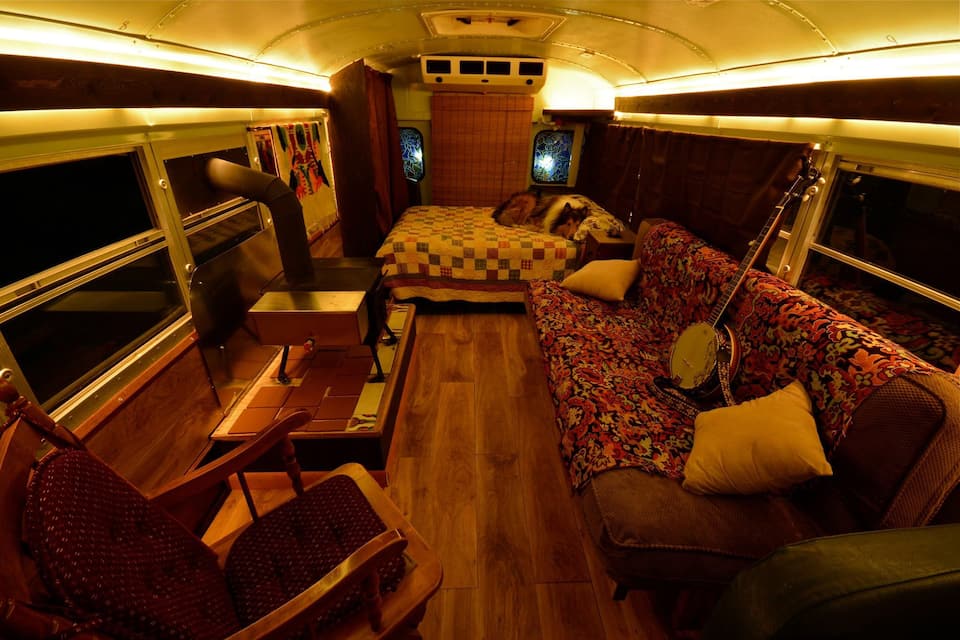 Shepherdstown is located a short 90-minute drive from Washington DC, so it makes for a nice getaway from the city. Here you can visit nearby Antietam and visit historic downtown Shepherdstown with local shopping and dining. Shepherdstown is actually West Virginia's oldest town!
Secluded 1940s Romantic Tiny House on the River
This historic tiny house located just one mile from Shepherdstown is another charming stay in West Virginia. Nestled along the Potomac River, this tiny house offered amazing views of the mountains and river! In the house, you'll find notes of history including reclaimed wood from a barn door and a restored WWII mail crate.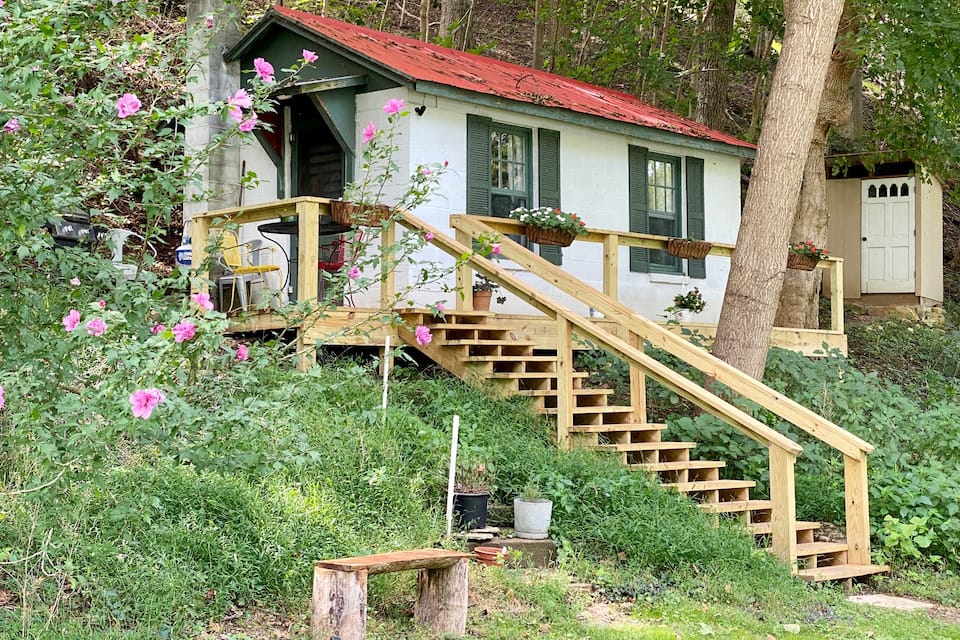 La Soledad Lavender Farm on the Potomac
The La Soledad Lavender Farm is not only a beautiful place to visit, it's also a beautiful place to stay overnight! This French country-style studio apartment above the garage offers sweeping views of the lavender fields and Potomac River and provides all the comforts of home. The farm is located within walking distance of town Harper's Ferry and Harpers Ferry Historic National Park.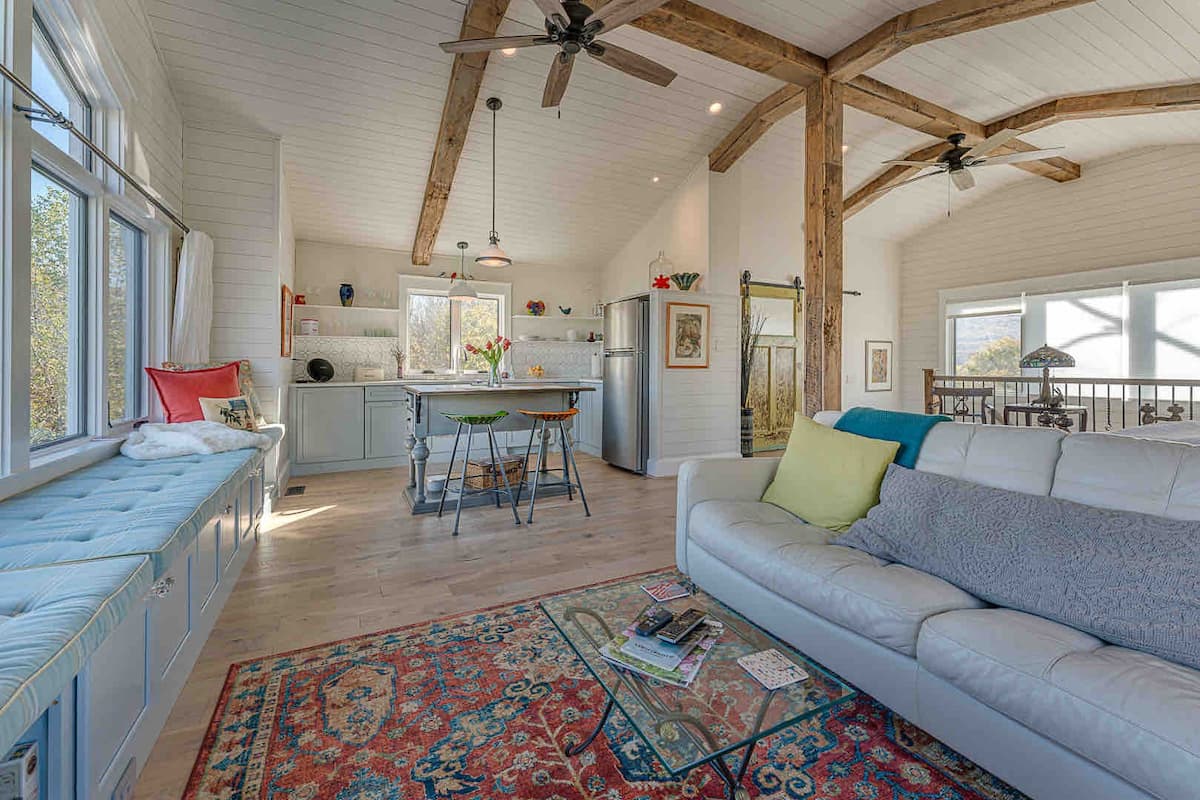 Dome of your dreams!
This dome house in West Virginia is a stylish, modern cabin in the woods! With 25-foot ceilings, a fireplace, and a spiral staircase, this unique stay will make you feel like you're in a dream. The dome house is located 4-miles from the historic Harpers Ferry and is close to the Shenandoah River and less than a mile from the Appalachian Trail.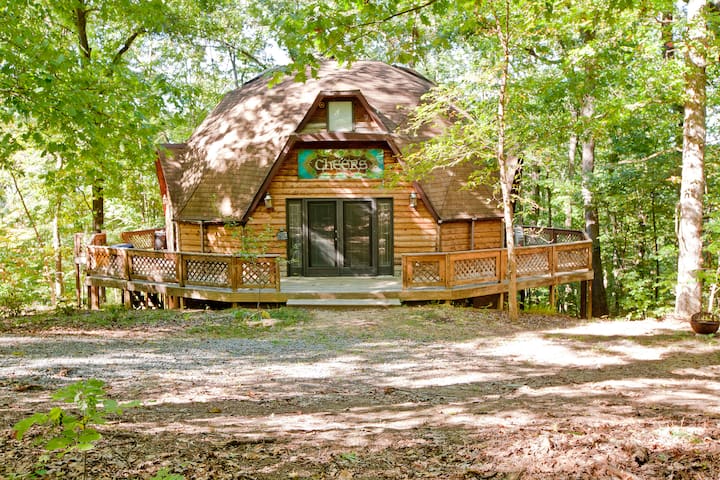 Glamping at its Best, Off-Grid Tiny House Comfort!
If you're looking for a unique off-the-grid overnight experience in West Virginia, consider booking this glamping tiny house near Seneca Rocks! The tiny house is off-the-grid, meaning there is no electricity or running water. But without these amenities, you'll become reconnected with nature and the people you travel with! The cabin is located a short drive from Seneca Rocks, one of West Virginia's top rock climbing destinations and natural wonders.
Custom Built Tiny House on 23 Acres of Forest
This brand new tiny house Airbnb in Mathias, West Virginia is secluded on 23 acres of woods, and neighbors Lost River State Park. One of the best features of the cabin is the large windows, offering beautiful views of the forest.
Thomas Company House 1
The Canaan Valley, where the charming small town of Thomas is located, has become a tourism hotspot in West Virginia. This region is known for its beautiful scenery, premier hiking, and outdoor recreation. This area is also home to some unique overnight stays including the Thomas Company House. This colorful tiny house in Thomas is inspired by the coal miner company houses that once populated the region. The house features modern amenities and is located close to dining and shops in Thomas.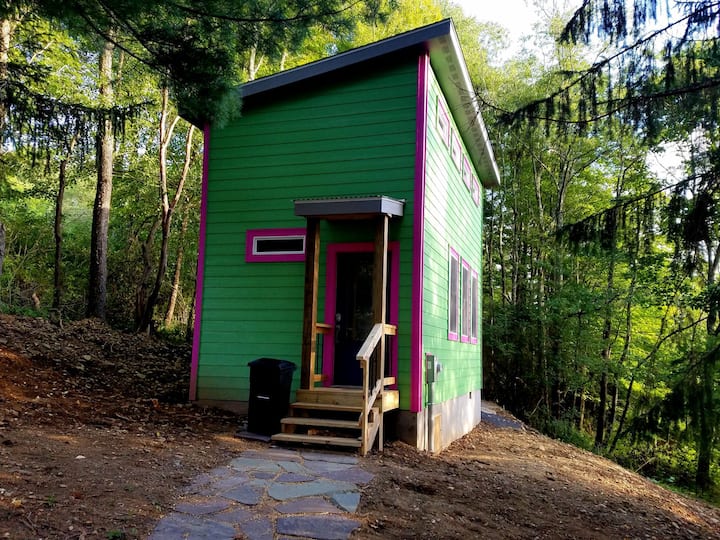 Treehouses in West Virginia
If you want to take your West Virginia travel experience to the next level, consider staying among the forest canopy in one of these treehouses in West Virginia! Of the unique places to stay in West Virginia, we think the treehouse stays are the coolest!
Holly Rock Treehouse
Treehouses have become popular stays on Airbnb, so we were happy to find a few treehouses in West Virginia! The Holly Rock Treehouse in Hico, West Virginia is luxury among the trees. Literally! In this treehouse, you'll find modern amenities including a hot tub! The treehouse is centrally located between Summerville Lake and New River Gorge, so it offers visitors access to some of the best outdoor recreation in West Virginia!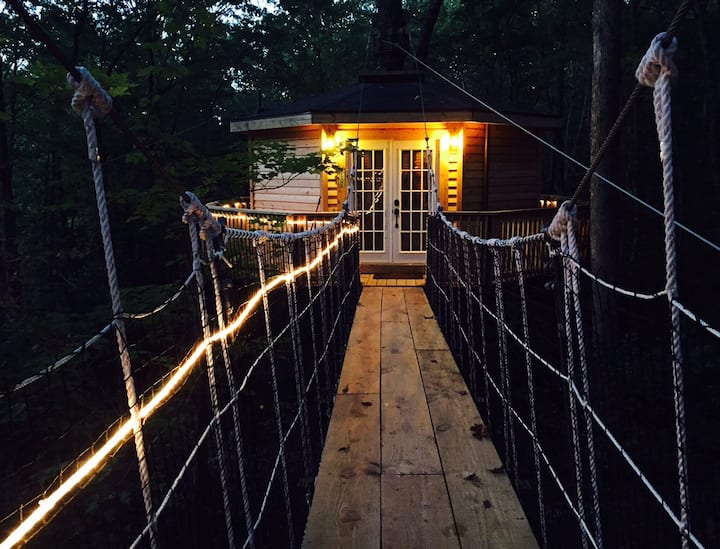 Treehouse at GrinCamp
Another treehouse stay in West Virginia! At the Treehouse at GrinCamp, you'll be up in the trees along the Greenbriar River. The benefit of staying at this Airbnb is that you'll have direct access to the river, which is great for those looking to fish or kayak! The treehouse does not have running water, but a shower house is available for guests.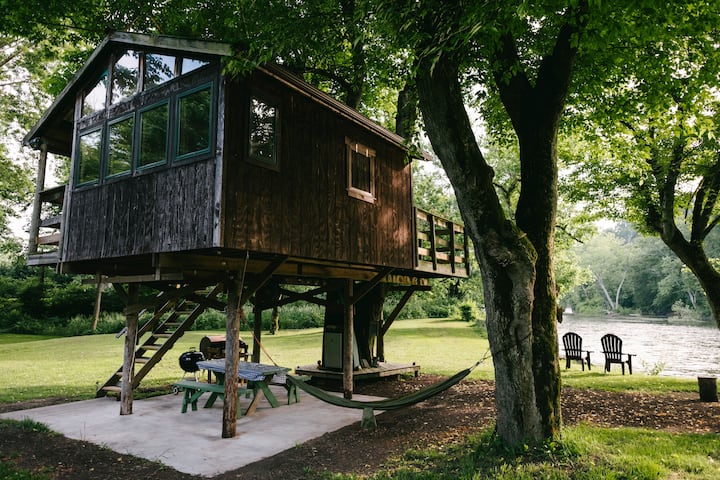 Treehouses and Cabins at Pine Haven
The Cabins at Pine Haven are another unique option for an overnight stay in West Virginia. Pine Haven also offers luxurious cabins and treehouses for rent. The Cabins at Pine Haven are located near Beckley, West Virginia.
1840's Romantic Log Cabin – Hot Tub and Fireplace
This historic log cabin located near Summersville Lake has everything you would need for a fun weekend in West Virginia! With a hot tub, wood-burning fireplace, and log cabin charm, staying in this Airbnb offers you rest and relaxation. Its location cannot be beat, as Summersville Lake is a popular spot for water enthusiasts during the summer. You'll also be a short drive away from New River National Recreation Area!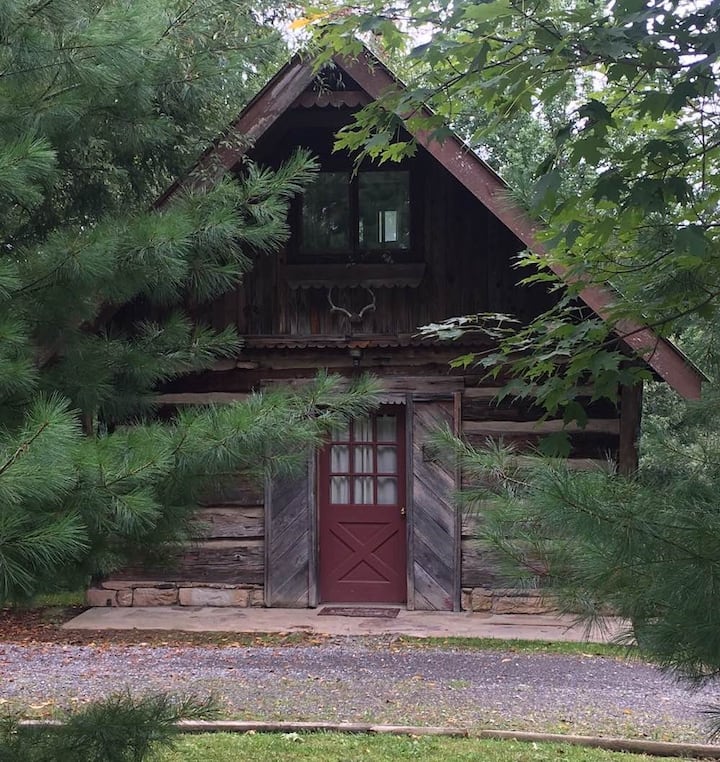 Renovated Barn in Seneca Rocks
The renovated barn at Seneca Rocks is certainly a unique Airbnb in West Virginia. While you might be staying in an old barn, the stay has all the modern amenities you could need including a kitchenette, bathroom, AC/heat, TV, and Wi-fi. It is conveniently located 5 minutes from Seneca Rocks, so it's a perfect place to stay if you're planning on climbing or hiking.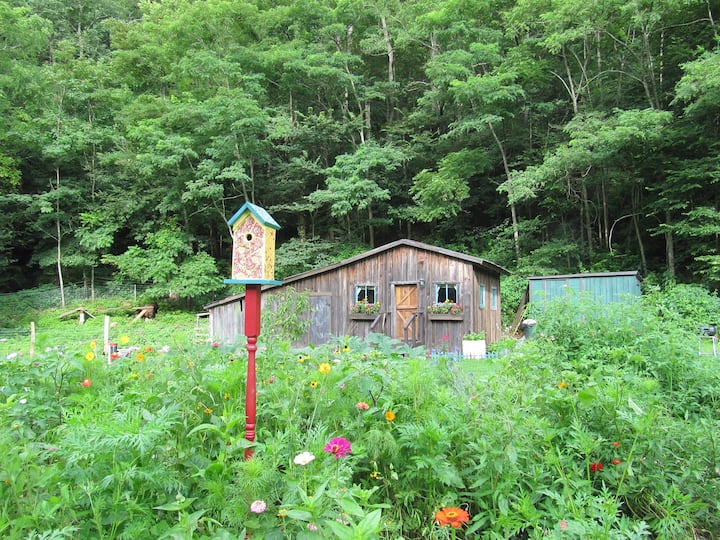 River Front, Beautiful 1815 Stone House, secluded
This historic Shepardstown house sits on 450 feet of riverfront land offering you amazing views of the Potomac! The beautiful white stone walls of this 19th-century house give the property historic charm. This stay is perfect for someone looking to relax and enjoy small-town life for a weekend (or a week!)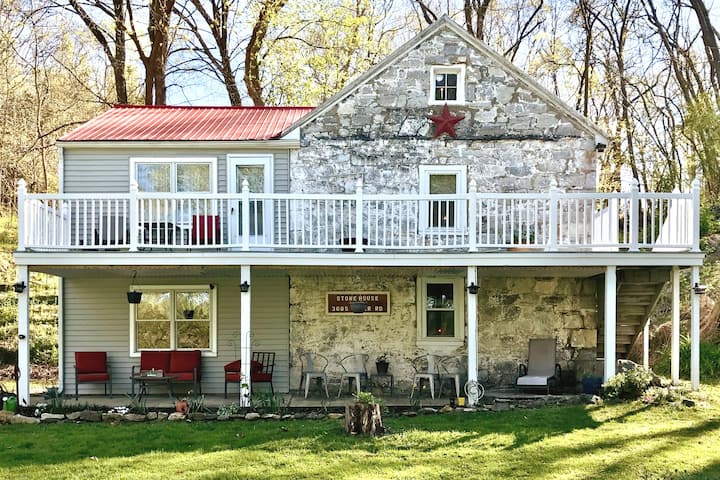 A-Frame Cabin Escape in GW Natl Forest Lost River
This A-frame cabin located in George Washington National Forest is perfect for a family or small group looking to get away and explore nature! With its floor-to-ceiling windows, you won't be able to get enough of the outdoors!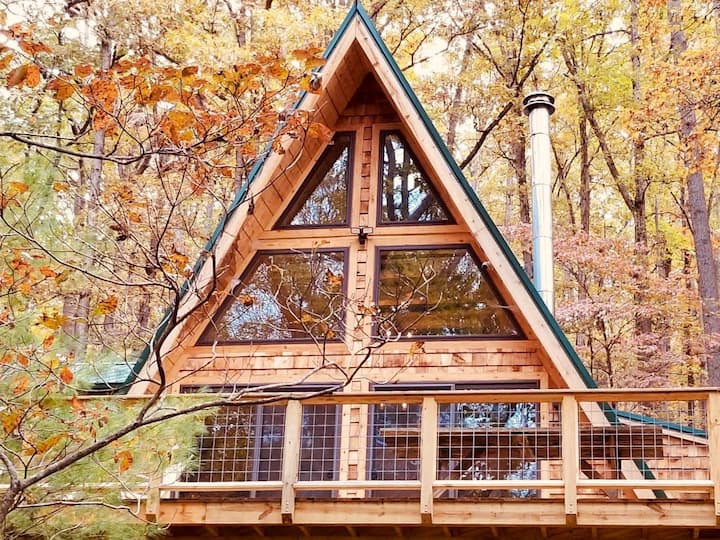 Charming Glamping Cabin! Explore the WV Mountains!
This little cabin is nestled in the woods near Spruce Knob, West Virginia's highest peak! If you're looking to get away and feel one with nature, this one-room cabin is for you!
Lost River Blackbird – Classic A-Frame Cabin
We love finding classic A-frame cabins! This modern A-frame in Wardenville is bright and airy with its recently renovated interior. The cabin also features a 6-person hot tub and amazing views of the maples and pines. Wardenville is located in the George Washington National Forest.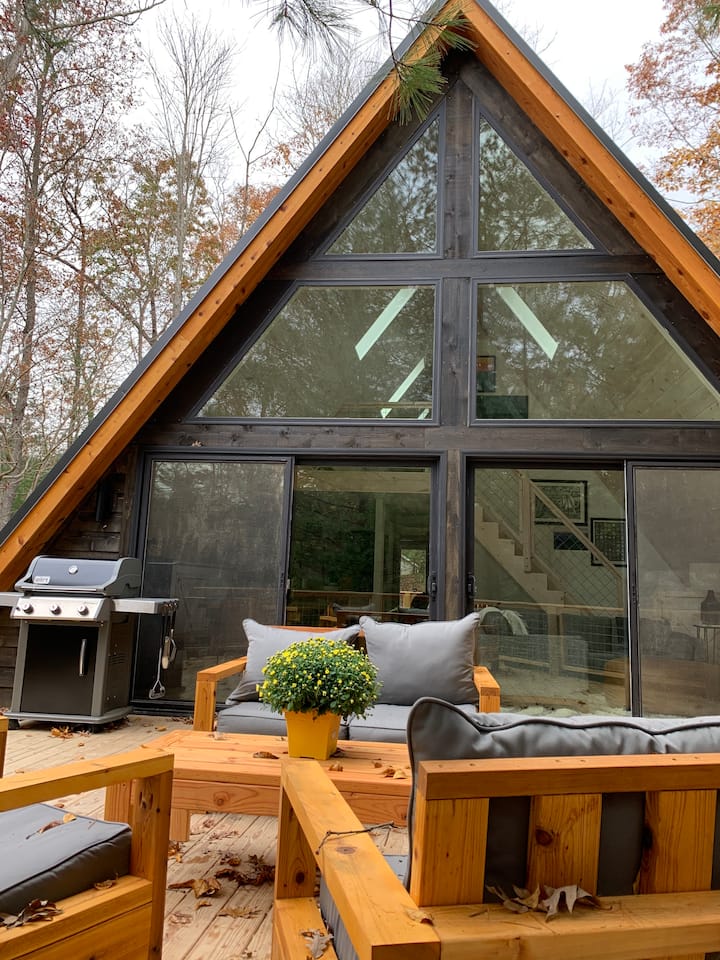 Romantic Winery Getaway
If you love wine, this unique stay in West Virginia is for you! This cottage is located in Weston overlooking Lambert's Winery. Not only do you have direct access to all the wine and winery tours, but you're also located close by to Stonewall Resort where you can launch boats, golf, and hike!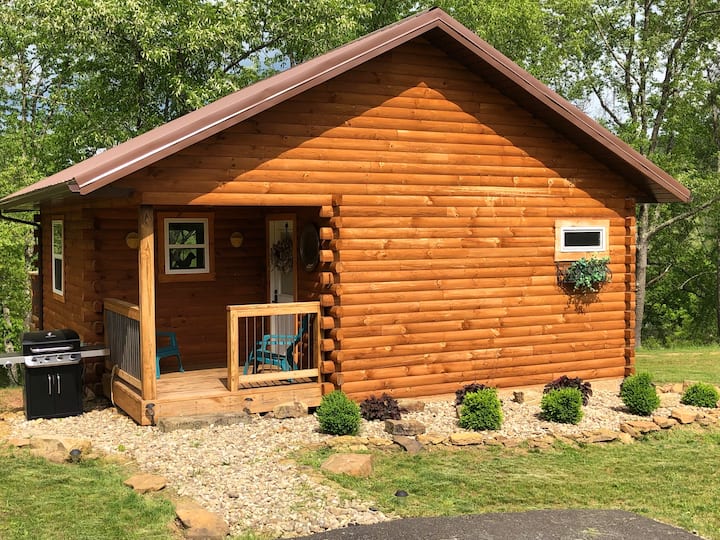 Cass Company Houses
While the Cass Scenic Railroad and Park attracts visitors for its scenic train rides and unique views, it also offers unique overnight accommodations! The Cass Company houses can host up to 14 people, which makes them a great place to stay if you're visiting Cass with a large group or family.
The Cass Company Houses make for a unique stay in West Virginia because these historic houses were once the home of local workers during the peak of the railroad industry. Much of Cass retains its historic charm, so staying in one of these houses is an authentic experience.
Book an Awesome West Virginia VRBO
Glamp at One of West Virginia's State Parks with Tentrr
Tentrr is bringing glamping to West Virginia! These stocked glamping sites include a gorgeous canvas tent, a queen bed, a rustic bathroom, a firepit, and more! Tentrr aims to bring comfort and style to the outdoors. Tentrr sites are available across West Virginia at Cooper's Rock State Forest, Lost River State Park, Blackwater Falls State Park, and Hawks Nest.
Thorny Mountain Fire Lookout Tower in Seneca State Forest
The Thorny Mountain Fire Tower is one of West Virginia's most unique overnight stays. This 65-foot tower provides 360-degree views of the forest and can be reserved for overnight stays, between May and October! The tower is primitive and has two cots but can accommodate up to four guests.
Country Road Cabins
At Country Road Cabins you can indulge yourself in one of the site's 21 luxurious log cabins, yurts, and treehouses! These luxurious cabins are perfect for a peaceful trip away or for adventuring at the New River Gorge Recreation Area. All Country Road Cabins include a fully-equipped kitchen, TV, WiFi, and a private hot tub.
Who is ready to book one of these unique places to stay in West Virginia?!
Hopefully, we convinced you there are tons of unique places to stay in West Virginia! So if you're planning a trip to this mountain state, consider staying in one of these awesome places!
More About Visiting West Virginia